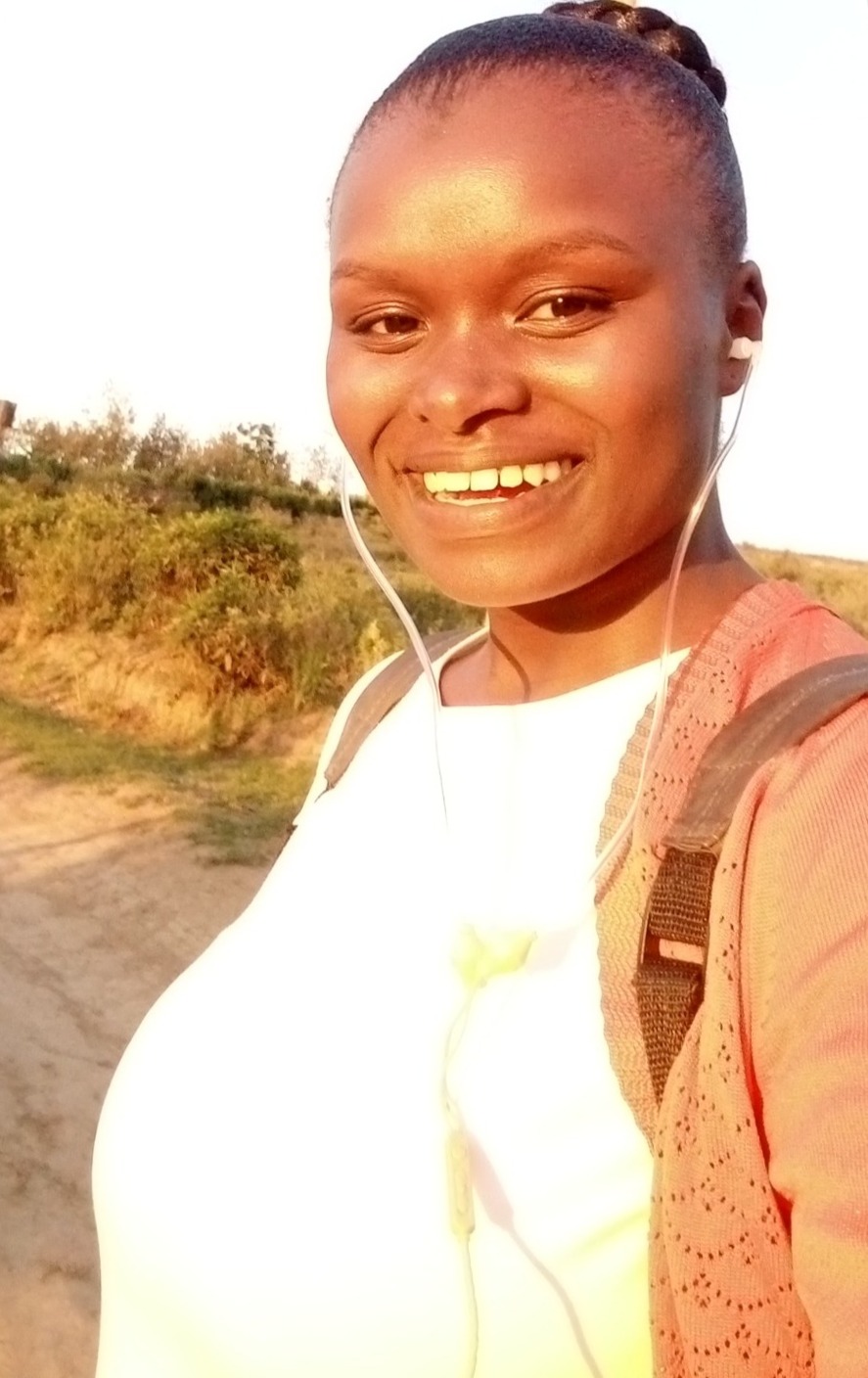 I spent four years studying atoms and molecules. I loved it, but I never practiced—that is—if you don't count the three months I spent measuring the diameter of tablets (that's a real thing 😊).
Now as a healthcare content writer, I talk keywords and phrases, leads, and conversions. I love it...and practice it.
When not curating superb content for consumer-centric brands, I am probably huddled in a warm blanket, watching Netflix, or playing chess with my husband.
I live in Kenya with my husband Otieno and our Netflix account 😃


How I Bumped Into Freelancing
I studied Applied Chemistry at uni. I had envisioned a career in R&D for manufacturing industries. However, when COVID-19 hit, it became increasingly difficult to find a job, despite my good qualifications.
It was during this time that I stumbled into freelancing. I have always loved writing but never imagined it could become a full-time job. But as I learned content marketing, I developed a passion for intersecting creativity with selling. As a result, I now sincerely appreciate the power of inbound marketing.
While I'm opinionated about contemporary issues, my superpowers lie in creating evidence-backed content that engages and inspires action.
As a freelance health content writer, I feel privileged to do what I love and help busy professionals get results through strategic content.
Content writing to me is more than a career or passion—it's a way to share ideas, inform, encourage action, and impact the world.

My Qualifications
I have a degree in Applied Chemistry from the Technical University of Kenya. A science background has given me a deep appreciation for research, critical thinking, and fact-checking. These skills are critical for writing, especially *YMYL ('your money, your life') content. I have certificates of completion for two intensive SEO courses: one by Simplilearn, and another by Blue Array Academy.
I also have taken or am taking the following courses:
Introduction to Content Writing- AJIRA, An initiative of the ICT Department, Kenya
Article Writing Course: Best Practices, Walter Akolo, Top Content Writer, and Founder, Pen Stars
Inbound Marketing (ongoing)- Hubspot Academy:
Introduction to Proofreading- Alisons
Basic HTML (ongoing)- Bit Degree
In addition, I'm always learning from the best in the industry, including Brian Dean, Neil Patel,  Michelle Guillemard, and Elna Cain.

IMPORTANT:
*YMYL: If your business offers health tips or legal or financial advice, you should be mindful about the content you produce because you could impact a reader's physical, emotional, or financial well-being.
What I Bring To Your Table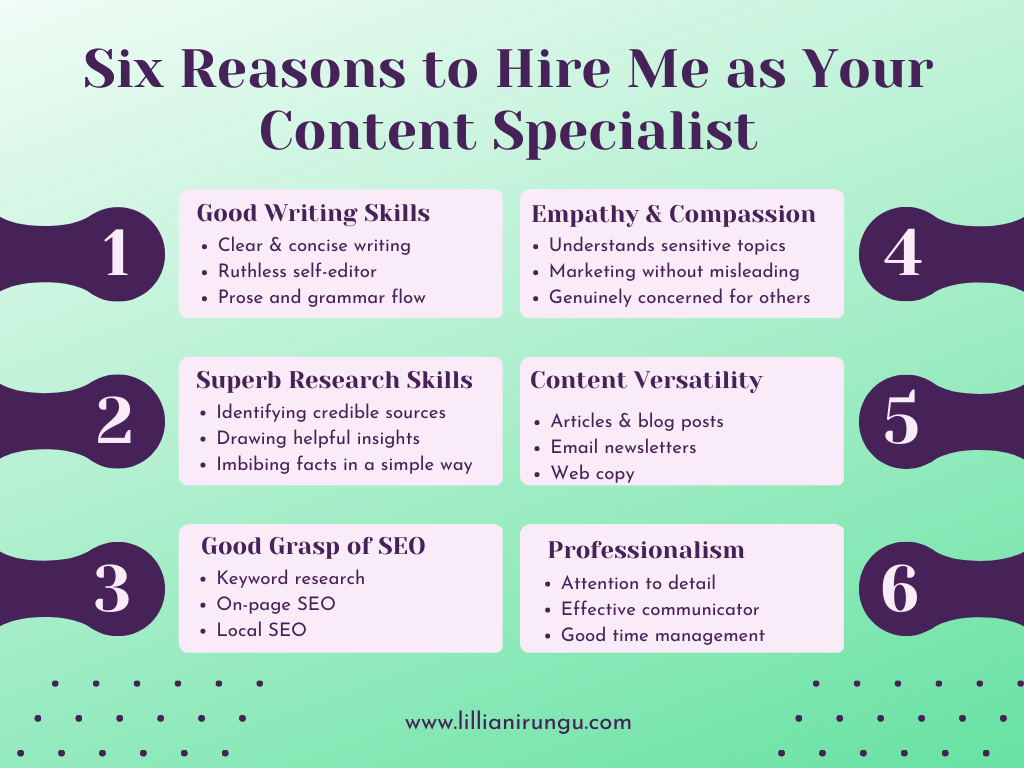 Being a health content writer is not like being a doctor or chemist. The latter are highly regulated fields.
In content writing, almost everyone can hop in and promise to offer value.
Some content writers are:
Subject matter experts in their field, which gives them authority
Former journalists or BA graduates 
Writers by hobby
Amazingly, all these types of writers can deliver (or not), so why work with me?
1. Good Writing Skills
Of course, a health and wellness content writer should have a good grasp of grammar, flow, and ruthless self-editing.
I continuously upgrade my writing skills to match the need for readability and helpfulness. 
2. Superb Research Skills
I don't just pick a random article on Google Scholar and slap it on your content as facts. I check for relevance, objectivity, and reliability of facts and statistics. If it's a journal, is it peer-reviewed? What do other experts think of an issue?
Check one of my articles, in which I evaluate what research is saying about ketamine infusion.
3. On-Page SEO Grasp
I have a good grasp of SEO, especially on-page SEO. I do keyword research, and meta descriptions, optimize my images, use HTML tags, and make my content scannable, which Google loves.
I also grasp local SEO, which is vital for physical businesses.
4. Empathy and Compassion
Working with primarily service-oriented businesses, I imbibe an empathetic perspective in my writing.
Many people using Google to find solutions are vulnerable and need a trustworthy provider who's not out to get their last coin.
I also draw inspiration from my dad, who's living with chronic leukemia. I typically ask myself; If my dad searched for information online, would I love him to find my content to answer his problem?
That's enough to help me balance the need to market with basic humanity. 
5. Content Versatility
As you can find on my services, I'm a versatile health content writer without stretching too hard. My superpowers are writing well-researched, helpful, and practical content. 
I can deliver that in articles, blog posts, infographics, and E-books. You pick your choice.
6. Professionalism
I respect my business, and you're my partner if you buy my services. If I can't manage something, I'll tell you upfront. I keep my deadlines and keep it professional. 
Write what you know. Write what you want to read. Write what you're passionate about. Write honestly and informatively."